Long Island, NY - At the home track
Mark Craven team driver for SRD Motorsport is making waves in the RETO East slot car series. Mark is currently leading the points, for the championship. Below see the race action and report from our home track last November as reported by Noose:
It was off to "Lawng Island" for the Retro East Winter Series for GT Coupes and Jail Door Grand Prix cars at Slots-A-Lot Raceway. Owners Ken Piccola and Rob Valenti were there bright and early with breakfast munchies and hot coffee for what would turn out to be a great field for a fun day, if not "deafening" day of retro racing.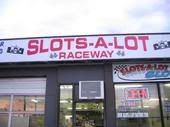 Tech got underway at 10 a.m. as planned and ah hum..someone was actually going to see if they could break the record for failing tech! LOL More "No Tech For You" issues than usual but not many of the guys here run retro on regular basis so we helped to educate them.
We had a field of 25 for the GT Coupe Race to be run on the Hillclimb. Practice showed that getting your dialed in was going to require choosing the right set of tires and weight to get the fasted speed possible of the very tricky donut.
Concours for GTC was won by John "VW" Streisguth with his unique Ferrari 330P4. Randy Kohr took 2
nd
lace (left) and Arthur Hagendorf took 3
rd
(right).
Qualifying got underway and it wasn't long before one of the Skunkworks guys went quick when Randy Kohr cut a 5.104. It held up until ol Mr, Rocket, Bill Gerhart got up and took TQ with a 5.047! The rest of the A Main sit-outs would be taken by Matt Bruce, Jay Kisling, Mark "Kid" Craven, and Derek Velez.
With 25 entrants we would have 4 mains.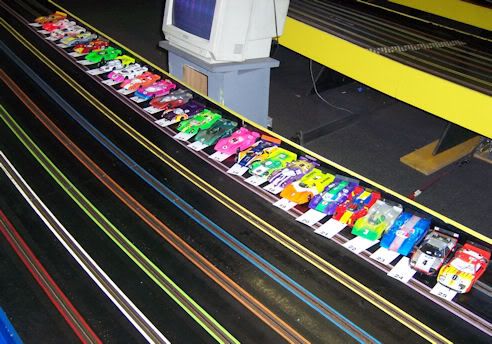 First up was the D-Main. One of the impressive sights at S-A-L was watching 7 year old Nick Wichburn in his pit apron jet around the track looking like a pro! When Nick develops his skills to stay on more his is going to be a force to reckon with! George Capello got off to the lead and held it for 4 heats until Nick Cerulli grabbed it in the 5
th
heat. Wolfy Kovack would overtake George too for 2
nd
place and held onto it for a podium spot.
A Main Time!
I knew watching this line up that it was going to be a very good race. The lead changed a few times in the race between Randy Kohr, Bill Gerhart, Derk Velez, Jay Kisling and Mark "Kid" Craven. Mark held off Derek for the win with Randy Kohr taking 3
rd
.
A Main Results
Mark "Kid" Craven – 262 Laps – Best Time 5.274
Derek Velez – 261 – 5.216
Randy Kohr – 260 – 5.223
Bill Gerhart – 258 – 5.261
Kenny Piccola – 254 – 5.278
Matt Bruce – 250 – 5.262
Chris Radisch – 250 – 5.331
Jay Kisling – 243 – 5.317
Derek, Mark, Randy
Mark's Car – Red Fox Chappy, Piccola Chassis, 113.3 grams, TSR, 9/28, Thunder Rubber Rears, Difalco controller